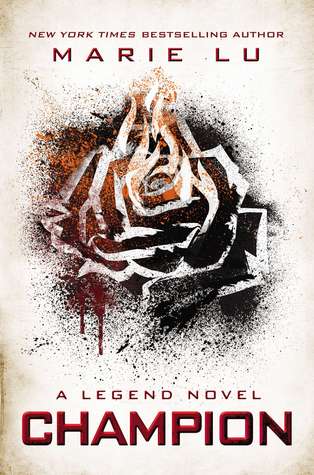 And we have an ending to our trilogy. It always makes me a little sad when I finish a series. I feel like there is so much of the world that I missed out on and want to explore some more.
Champion
by Marie Lu did not disappoint as a follow up to
Legend
and
Prodigy.
June is now second in command of the entire Republic. She is helping lead the country by the side of Anden the Elector Primo. She has gotten mixed in the politics of governing the nation and has remained in the capital in Denver.
Day on the other hand has left Denver and returned to California with his brother, Eden, who he just found again. But there is one more thing. Day is dying. He's been sick for awhile but it has now reached the breaking point. Best case scenario, Day lives a few more months.
June and Day's lives are brought back together when the Colonies wage war on the Republic. The plague that had affected Eden has now spread into the Colonies and they will attack until a cure can be found. June must ask Day for his help and the help of Eden if they ever hope to find a cure.
June knows nothing about the secret that Day carries around. How long can he keep it from her? Will they survive the war? Will they find the cure that they desperately seek?
Champion
delivers action and emotion. Lu is an excellent story teller with an awesome story to tell. If you enjoy dystopian novels this should be on your read list.